About This Trip
Activate your body (of water).
Water is a powerful healer and It nourishes the body deeply in ways beyond the obvious. Apart from drinking water and utilizing water for plants, indigenous people throughout the world knew that the process of honoring water supports vitality and transformation.
In this time, you may notice imbalances inside and desire to open more fully to yourself. After all, your body is mostly water. You may have a sense that what you do for yourself is a direct mirror of the world around you.
When water calls, we feel it.. If you made it here WE WANT TO INVITE YOU to a powerful tribe of women devoted to restoration, rejuvenation and activation.
We invite you to come to Yelapa, which means the place where "two rivers meet the ocean." This small beach town, accessible by a picturesque one-hour ferry ride from Puerto Vallarta, will be your sanctuary for five days. Step away from the world as you know it and enter a paradise of warm pools, hidden waterfalls, ocean breezes, and gentle waves.
While here, we will guide you through yoga, movement, meditation, water ceremonies, and other sacred practices designed to help you connect more fully with nature and with yourself.  You will amplify your intuition by recognizing the cues of deep inner knowing. We will cultivate emotional resilience while immersed in nature and surrounded by supportive women.
As your guides, our team has spent years under the tutelage of earth based wisdom, movement, meditation and nature study. We believe this retreat is a momentous gathering to amplify each other's gifts such that the world is longing for.
The water is calling us to gather so we might share our dreams and find courage to live the fullness of who we are. This is a place for you to recommit to drawing from the wellspring of your own inner knowing—a knowing that guides your path forward.
Water Stewards
You have heard the call to join us and you are ready to dive in! This work will profoundly change the way you see the world, yourself and water.  All rooms are private unless you have another women in mind you would like to room with. $1275
Water Patron
Your cup runneth over and you are about to become a fountain. Amplify your abundant impact by donating for the benefit of others to more fully support our work with the water. This package is perfect for you if you have your financial needs met, and you want to support our continued research and service to sharing this work around the world. You will have a private room, unless you request otherwise. Included is a complimentary Watsu session (water massage)  or Myotherapy massage. $1595
Water Sister
This is for women who want to share rooms.  There are rooms that can hold up 2-4 people comfortably.  Please let us know the name of the sister (s) who you would like to room with.  PLEASE NOTE: Only apply for this option if you have another sister you want to room with, otherwise, you can submit requests directly to the coordinator for our waitlist. $1100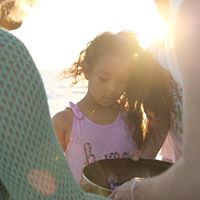 H2FLOW: A SUNSET WATER DANCE
These monthly gathering are site-specific dances designed to unite community
and steward a relationship to water.
Alongside Anne Koller, we continue to create a nourishing context
to connect to nature and the soul.
See more at h2flow.us.